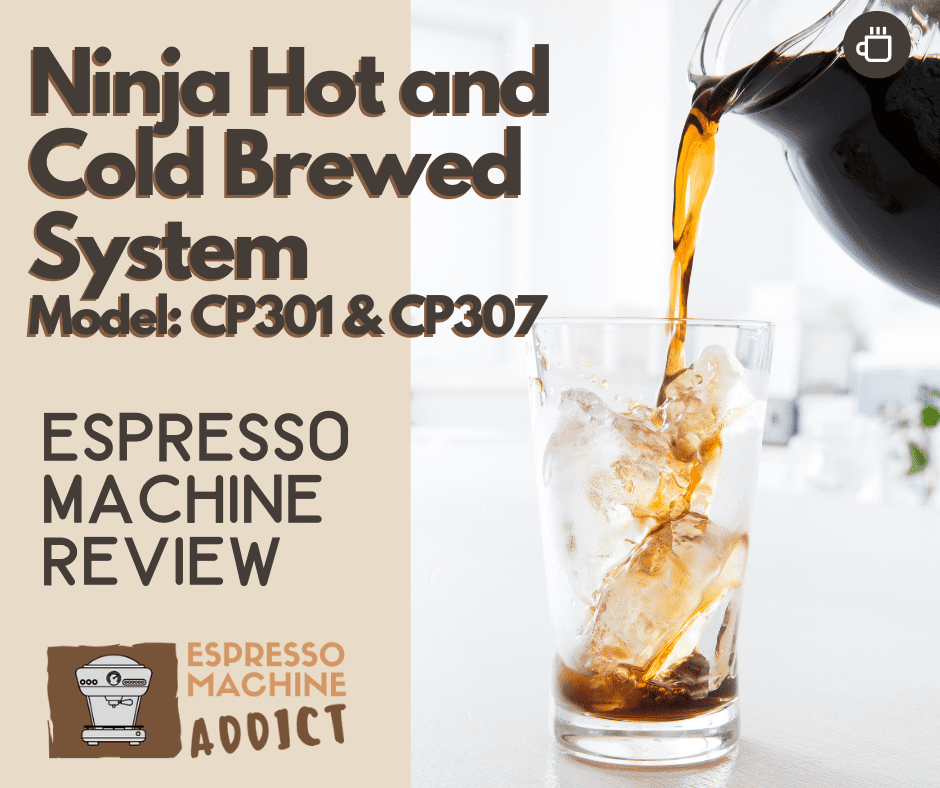 Choosing the right coffeemaker is essential, whether you enjoy having hot coffee or iced coffee drinks at home. Getting the right option for your needs can also be surprisingly challenging. That's why it's critical to check out a Ninja hot and cold brew system review or two before you buy.
The Ninja hot and cold-brewed system CP301 and CP307 have a lot to offer. But if you're going to choose the best model for you, you need to know how the Ninja CP301 and CP307 compare. Here are some Ninja hot and cold brewed system reviews to make your decision easier, covering the CP301 Ninja and CP307 Ninja.
Ninja Hot and Cold Brewed System CP301 & CP307 Review
Usually, when you're trying to decide between two coffee makers, your best bet is to explore what they have in common and how the machines stand apart. This is a bit harder with the Ninja CP301 and the Ninja CP307 hot and cold-brewed systems.
Overall, the Ninja CP301 and Ninja CP307 have far more in common than differences because they are part of the same product line. Essentially, the Ninja hot and cold brewed system core machine that serves as the basis for both models includes the exact same features and finishes.
However, that doesn't mean they are entirely alike. They stand apart in a couple of significant ways, potentially making it easier for shoppers to choose between the Ninja hot and cold brewed system with thermal carafe CP307 and the Ninja hot and cold brewed system with glass carafe CP301.
If you're torn between these two coffee makers, here's a Ninja CP301 and CP307 review that can help.
Ninja CP307 and Ninja CP301 Review: What They Have in Common
When it comes to the machine itself, the CP301 and CP307 Ninja hot and cold brew systems are essentially identical. Each comes with Auto-iQ technology, ensuring the coffee and tea maker pulls the correct amount of water and uses the right brewing approach based on your preferences.
Additionally, both the Ninja CP301 and CP307 offer size brew sizes and five brew styles, giving you plenty of options for creating delectable coffee drinks. When it comes to sizes, you get:
Regular Mug
Large Mug
Travel Mug
XL Multi-Serve
Half Carafe
Full Carafe
For brew styles, you can choose from:
Classic
Rich
Over Ice
Cold Brew
Specialty
The capacity of both versions is the same, with each coming in at 50 oz and boasting a removable water reservoir. While some people find this sufficient, others feel that the capacity is a bit on the small side. Still, both the CP301 and CP307 have the same amount of room, so this doesn't cause one option to stand apart from the other.
The brew times also line up between the two versions. In most cases, you can get a lovely coffee or tea in your hands in about ten minutes, though a carafe may take closer to 15 minutes, depending on the chosen settings.
You also get a fold-away hot and cold frother with both versions, allowing you to take hot or cold milk and produce a rich, smooth foam. Additionally, you'll receive coffee and tea baskets for convenient brewing. One nice point about the baskets is that the brewer can detect which one is in place, ensuring it shows coffee or tea brewing options depending on the basket you insert.
The machines work with any coffee or tea brand, including loose-leaf and bagged teas. Additionally, both versions are pod-free systems, relying on the baskets instead.
Ninja CP301 and Ninja CP307 Review: The Differences Between the Models
When it comes to the differences between the Ninja CP301 hot and cold brewed system and the Ninja model CP307, the carafe is the main point where the two stand apart. With the CP301 Ninja, the carafe is glass. The CP307 Ninja has a double-walled thermal carafe instead.
With the thermal carafe you get with the CP307, your coffee can stay warmer longer. The material is a better insulator, so the coffee inside won't cool as quickly as it will with glass. This can be ideal if you don't believe you'll finish the entire carafe shortly after brewing.
Now, glass isn't a bad insulator; it's simply that the double-walled thermal carafe works better. Additionally, it's not that glass can't come with its own benefits. One of the reasons that some people prefer the glass carafe that comes with the Ninja CP301 is that you can see inside the carafe. You know exactly how much brewed coffee is ready at a glance, allowing you to know when a fresh pot is needed.
It's important to note that the Ninja coffee maker CP307 and CP301 can stand apart on one more point: price. Even though the models are essentially identical aside from the carafe, they aren't guaranteed to sell for the same price at any particular retailer. At times, the pricing is comparable, and, in others, it's surprisingly different, so you'll want to keep that in mind if you decide to pick up one of these coffee machines.
Ninja Hot and Cold Brewed System CP307 and CP301: Which Is Right for You?
If you're looking for a Ninja hot and cold coffee maker, both the Ninja CP301 and Ninja CP307 hot and cold brew systems have plenty to offer. Ultimately, you need to decide whether a glass or thermal carafe is best based on your needs, as that's genuinely the key difference between the two versions.
For shoppers looking for better heat retention, the CP307 might be the right choice. The same goes for anyone worried about durability or breakage.
If you prefer visibility into the carafe or like the look of glass, go with the CP301. Glass is still a solid insulator, so you won't typically have issues with your beverage shifting away from its ideal temperature too quickly.
However, if you're a budget-conscious shopper who's open to either carafe, you may want to make cost your deciding factor. The price can vary between the models, depending on the retailer. So, if you don't have a carafe preference, use that as your guide.