For many people, coffee and espresso aren't just morning necessities; they're part of a broader lifestyle. If you adore a magnificent coffee or espresso drink when you get up or during the day, why not make the experience special by creating a rustic coffee bar at home that meets all of your needs?
With an official coffee machine bar with everything you could need for a great cup, you keep everything at your fingertips. Plus, you can create an attractive display, introducing more of your preferred farmhouse style to your home.
Fortunately, building a fantastic farmhouse-style coffee or espresso bar at home is simpler than you'd expect. Here's a look at how to create a rustic coffee bar at home.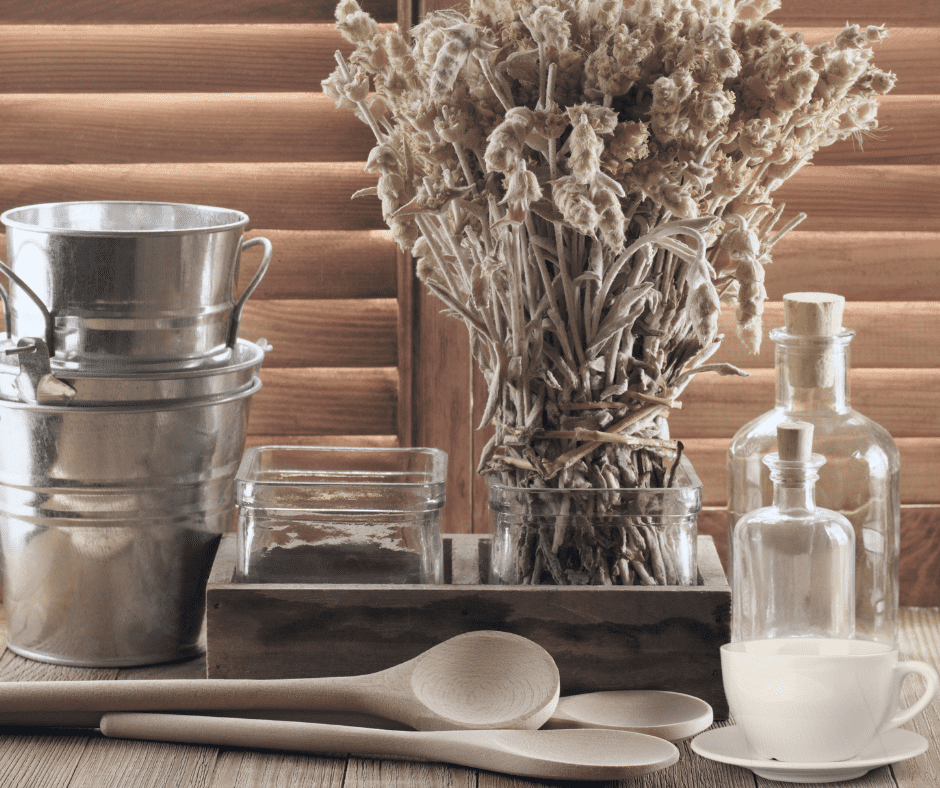 How to Create a Rustic Coffee Bar at Home
1. Start with a Surface
If you want to create a rustic farmhouse coffee bar, the first thing you'll need is a usable surface. While using a spot on a kitchen counter is technically an option, that usually isn't ideal. It means sacrificing work or prep space to your coffee bar, and that may not work well depending on the size of your kitchen.
Instead, it's best to bring in a new surface. If you have a decent amount of room, you may want to go with a hutch. There are rustic hutches designed for walls and corners, the latter of which can be great for placing right against the end of a run of cabinets or an unused corner.
A rolling farmhouse coffee cart might be a better choice if you have less space. It's compact and mobile, allowing you to tuck it away if the need arises.
Finally, you can always go with a classic farmhouse coffee bar table. You can go with a simple one or choose an option with leaves – either drop or insertable – letting you expand the surface area if the need arises.
2. Add a Small Crate
Coffee bars generally have loose items that are better kept contained. By bringing in a small crate, you're creating a landing zone for many coffee essentials. Your syrups, sugar, teas, or anything else is all in one spot. Plus, it's easy to grab the whole crate and move it, speeding up cleaning or letting you stash everything away if needed.
Alternatively, you could use a tray for coffee station organization. Just make sure the bottom is completely flat and that the sides are a bit high. That way, things won't slide off if you need to move the tray.
3. Bring in Containers
While a small crate or tray is a great starting point for an espresso bar at home, you're going to want some containers for a DIY farmhouse coffee bar, too. Having an airtight canister for your coffee or espresso beans is a must. You may also want extra ones for sugar, cinnamon sticks, stirrers, creamers, cocoa, and more.
When in doubt, go with clear glass. Most simple styles of clear glass jars and containers work well on a traditional or modern farmhouse coffee bar. If you prefer something opaque, it's hard to go wrong with classic white ceramic canisters.
4. Add a 3-Tiered Round Display Tray
Another must-have item for a farmhouse coffee bar DIY project is a lovely 3-tiered round display tray. Along with adding some verticality, it gives you extra storage, ensuring you have enough room for everything you need.
What you put on your 3-tiered tray may depend on personal preference or style. It can be a great place to put coffee mugs on display, as well as some coffee bar trinkets, cute rustic signs, fun wooden beads, faux foliage, and more.
You can even use the 3-tiered stand to hold some of your canisters and containers. This gives you some versatility, allowing you to adjust the placement of items for better efficiency and aesthetics.
When selecting a 3-tiered round display tray, it's wise to make sure the tiers are entirely flat, ensuring everything remains balanced. Having a bit of a lip isn't a bad idea either, especially if you may need to move the tray, as it will help keep the items contained. 
5. Bring in Some Décor Pieces
After you've got the fundamentals above handled, it's time for coffee bar décor accessories. There are plenty of fun rustic options available.
First, you can start with the cups you display. You can find coffee mugs and espresso cups in nearly any color and pattern imaginable, allowing them to take center stage if you like. However, they aren't your only option.
One of the classic farmhouse coffee bar ideas is adding small signs. Many sayings and quotes are available on pre-printed signs, or you can choose versions that let you change the message, such as a tiny chalkboard sign.
Garland or strung wooden beads also work well as rustic coffee bar ideas. The same goes for decorative twine balls or small ceramic farm animals.
Adding a metallic element can also be a wise move. An antique bronze or brass piece can add some visual interest. Whether it's a farm animal figure, cowbell, container, or something else, it can give your display a vital boost.
Updating Your Farmhouse Coffee and Espresso Bar During the Year
While all of the tips above can help you create the farmhouse-style coffee bar of your dreams, that doesn't mean you can't change things up a bit during the year. Many people enjoy restyling their farmhouse coffee station for the seasons or holidays, allowing them to add a fun element to their homes.
If you aren't sure where to begin, here are some décor options for updating your farmhouse coffee bar for the seasons.
Spring
Spring is all about renewal and lightness, so adding some pieces that bring that feeling into your coffee bar is a great move. Make sure you have some greenery and consider adding garlands or other décor pieces that feature flowers. A brass sun could also be a fun addition.
You could also introduce pastels. Whether it's your coffee cups or other décor items, going with classic Easter colors can be a great way to embrace the season.
Summer
During the summer, it's time for some brightness. Consider adding some vibrant hues like turquoise. You could also introduce some beachy pieces, like seashells, or go with picnic-inspired décor, like a gingham garland and tiny wicker baskets.
Greenery is still in this time of year. Adding some citrus elements – either in signs, figures, or colors – also embrace the brightness of the season.
Fall
In the fall, it's all about rich, warm colors, either with or without a contrasting deep green. Those capture the changing landscape outside, making them excellent hues to introduce.
Tiny pumpkins in any form – including natural, ceramic, metal, or glass – are officially a go this time of year. You could also introduce faux foliage in fall colors or bring in more natural wood elements to represent the richness of the season.
Winter
Deep colors coupled with metallics can serve as an excellent foundation during the winter. Couple those with items that bring snow to mind, and you can really capture the feel of the season. Snow-dusted faux greenery, white fairy lights, and faux cranberries may all be excellent choices.
If you celebrate Christmas, ornaments are an easy option for adding some holiday flair. Silver or gold stars are also fun additions that anyone can use, adding a bit of sparkle to any rustic coffee bar at home.