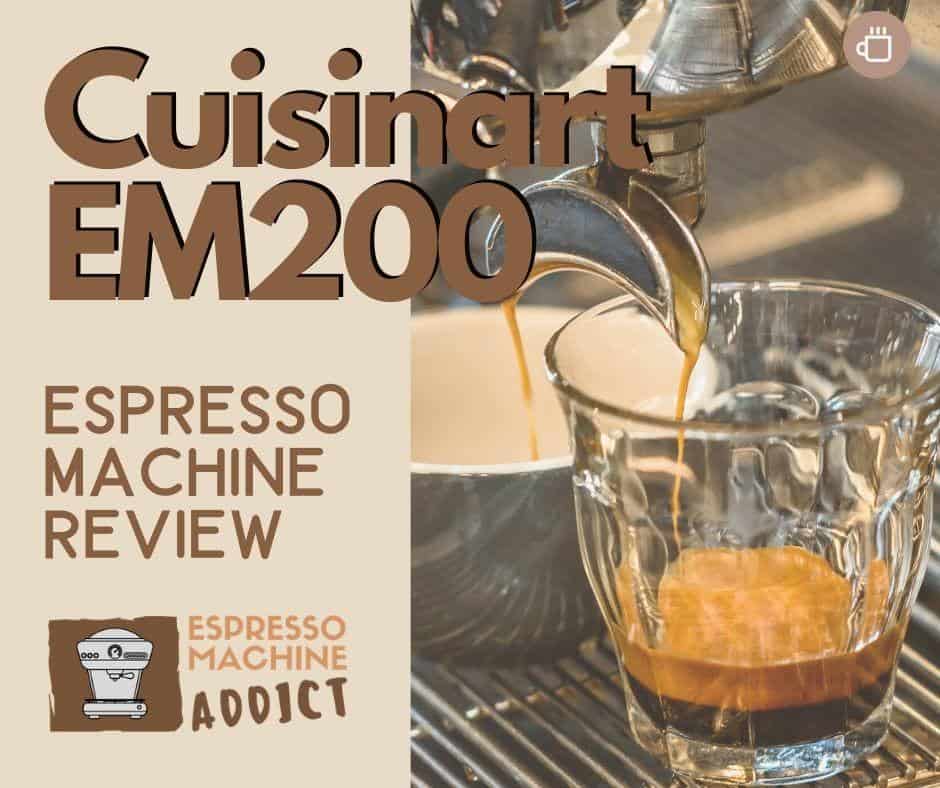 If you adore coffee drinks, having your own espresso machine is usually a smart move. With a coffeemaker like the Cuisinart EM200 espresso machine, you can make many of your favorite beverages at home.
Not only will this let you start your day off right, but it can save you a ton of money. Using your own espresso maker is significantly cheaper over time than hitting your neighborhood café every day, even if the machine itself is an investment.
But selecting the perfect coffeemaker can be challenging. There are a surprising number of great options, including a range of Cuisinart espresso makers. And that's why gathering information before you purchase one is so important.
If you are looking for a fantastic espresso machine, here is an EM200 Cuisinart espresso maker review – including a features overview, pros and cons list, and final verdict – that can help you decide if this option is right for you.
EM200 Cuisinart Programmable Espresso Maker Review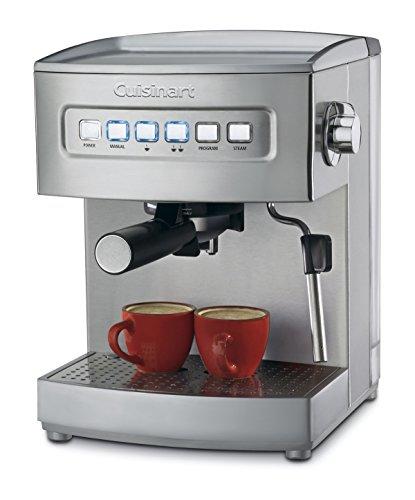 Cuisinart is a leader in the small appliance space. The company has a reputation for making high-quality, durable products, including espresso machines. It's a business with longevity, and they wouldn't stand the test of time if they created subpar products.
With the EM200, you get the exceptional experience you'd expect from a small appliance giant like Cuisinart. The design is as functionally rich as it is aesthetically pleasing. You get all of the features you'd traditionally need, as well as a few extras you might not find with all competitors.
Plus, getting started with this Cuisinart espresso machine is easy. The controls are very intuitive, reducing the learning curve substantially. With just the quickest review of the instructions, you are well on your way to your ideal espresso drink.
Cuisinart Espresso Maker Features
An espresso machine review isn't complete if it doesn't take a deep dive into the coffeemaker's features. It gives you a glimpse into what owning the machine is like, ensuring you understand exactly what you're getting and whether it can meet your espresso-making needs.
Here's what the EM200 has to offer.
Brew from Grounds or Pods
The Cuisinart EM200 espresso machine is incredibly flexible. Not only can you use traditional espresso grounds, but you can also use pods. With the former, you have full control over your coffee experience. You can select your ideal bean and grind, ensuring you can capture your perfect flavor profile.
With the latter, you get the utmost convenience. Pods are simple to use and easy to clean up. If you're always on the go, pods ensure you get an excellent experience without any undue stress.
Large Removable Reservoir
Water reservoirs on espresso machines add to the convenience of using the coffeemaker. With this Cuisinart espresso maker, you get a 69-ounce removable one. Not only is that a substantial capacity, but it's also easy to refill. You can actually remove the entire reservoir and fill it directly.
Attached Milk Steamer
If your favorite espresso drink is a latte, café au lait, or cappuccino, you're in luck. The Cuisinart EM200 comes with an attached milk steamer, allowing you to heat milk quickly and create the kind of decadent, foamy texture you'd get at your favorite café.
You could even use the attachment to create other drinks. For example, you could heat half and half instead of milk, giving you the ability to craft an indulgent café breve. The steamer can also dispense hot water, allowing you to make a café Americano in minutes. The sky is the limit.
Cup Warming Plate
When it comes to unique features, the EM200 steps up. On the top of this Cuisinart espresso maker, you'll find a warming plate. Just place your espresso cups on top to increase their temperature. When you do, your espresso will stay warmer, longer, giving you a better drinking experience if you prefer to sip slowly.
Cuisinart Espresso Machine Pros and Cons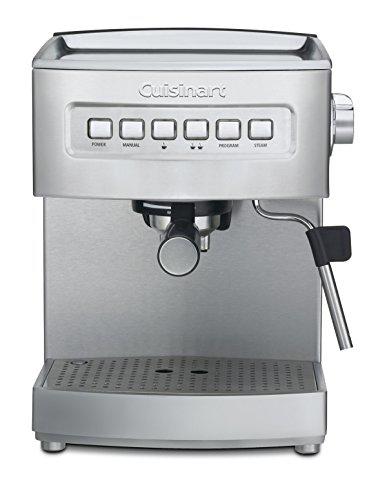 Along with the features above, the EM200 brings a lot to the table. It has a 15 bar pump, allowing it to produce what many consider to be the ideal amount of pressure for crafting fantastic espresso.
You also get plenty of tools to ensure your coffeemaking experience is a winning one. There's a removable drip tray, cleaning pins, frothing pitcher, and measuring and tamping tools all included. You won't need to pick up anything extra to make the most of your Cuisinart espresso machine, and that's a nice bonus.
The closest things to drawbacks are the machine's size and cleaning process. Nearly every espresso machine is bigger than a traditional coffeemaker, and the Cuisinart EM200 is no exception. If you were hoping for a compact option, this might not be the one for you.
Additionally, cleaning this espresso machine is a bit time-consuming. Now, this isn't unusual for any espresso maker, so it's true for most competitor products as well. But it's important to understand that before making a purchase, as failing to keep your EM200 espresso machine in good shape can cause performance issues.
Pros:
Attached milk steamer for cappuccinos, lattes, and more
Hot water dispenser for Americanos
Large water reservoir
Warming plate for espresso cups
Programmable
15 Bar Pump
Cons:
The footprint is larger than most traditional coffeemakers
The cleaning process is involved
Cuisinart EM200 Espresso Machine Review Verdict
Ultimately, the EM200 Cuisinart espresso maker is an excellent choice for anyone who wants to make their own coffee drinks at home. It's made by a brand you can trust and offers an excellent feature set.
Plus, it's a user-friendly design. You'll be crafting your ideal espresso in no time flat, thanks to the easy-to-use controls and features. If you are looking for an alternative to hitting a café, this Cuisinart espresso machine can give that to you.
Check Current Price
Cuisinart EM200 Espresso Machine Review
The EM200 Cuisinart espresso maker is an excellent choice for anyone who wants to make their own coffee drinks at home. It's made by a brand you can trust and offers an excellent feature set with a user-friendly design.