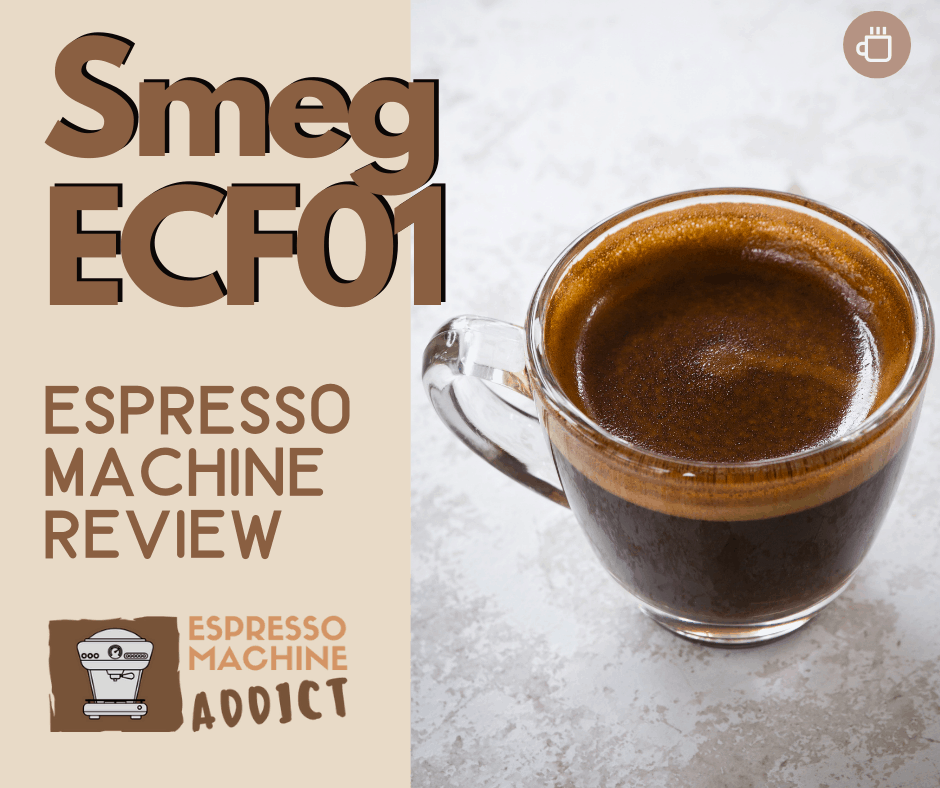 Creating a delectable espresso drink at home makes having the right machine essential. If you're looking for a reliable brand with great styling, look no further than a Smeg espresso machine. Smeg has a reputation for quality, ensuring you can get a great cup every time. Plus, the Smeg retro machine options, including the Smeg ECF01, bring a ton of style to the table.
Deciding whether this option is right for you doesn't have to be difficult. By checking out a Smeg 50s retro-style coffee machine review or two, you can learn critical details that allow you to determine if it's a great fit.
If you're looking for straightforward Smeg coffee machines reviews, you're in luck. Here's a close look at everything the Smeg ECF01 espresso machine has to offer.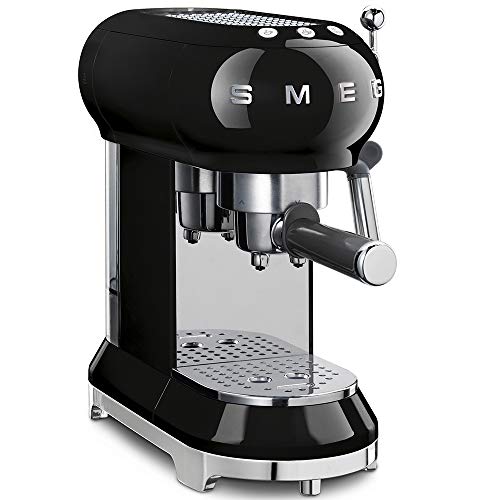 Smeg Espresso Machine ECF01 Review
No Smeg espresso coffee machine review is complete without talking a bit about the company. In the world of retro appliances, Smeg is a standout brand. While the company also creates modern-looking appliances, Smeg garnered international renown for its designs reminiscent of the 1950s. Those combine modern features with vintage styling, giving shoppers a way to capture the unique look of a bygone era.
The Smeg ECF01 is one of their retro designs. For buyers looking for appliances with vintage appeal, you can't go wrong with it. Plus, you can get an outstanding coffee experience, ensuring your espresso drinks are café quality every single time.
Using the Smeg espresso machine is also a breeze. The set-up only requires a few moments of your time, and the simple settings make operation very straightforward. If you've never made espresso at home, it won't take you long to get the hang of it with this option.
When it comes to heating times, it usually takes less than a minute to reach optimal temperature. If you're making multi-espresso shot drinks or coffee beverages for the whole family, you can wrap things up with surprising speed with the Smeg espresso maker.
For added convenience, the Smeg ECF01 espresso machine works with coffee grounds and disposable pods. Whichever approach you choose, you'll get the delectable drink you're after once you're done.
Features
Before you buy a Smeg coffee espresso machine, it's a smart move to look at its available features. That gives you an idea of what this appliance can do, allowing you to determine if it meets all of your needs.
As part of this Smeg ecf01 coffee machine review, we focused on the machine's core features. Here is a look at some of the standouts.
Utmost Control
The ECF01 is one of the Smeg manual espresso machine options. With manual machines, you get far more control than you do with automatic ones. If you want to make an espresso drink just to your liking, using this Smeg manual espresso machine can make that easier.
Simple Operation
When people are looking for new appliances, simple operation is a priority for many. That's why we had to mention the three-button design in our Smeg ecf01 review.
The three buttons control all of the bases you need to be covered. You can adjust the volume, strength, and temperature with ease. There's also an adjustment for water hardness, ensuring you get the best cup based on the water you're using.
When it comes to the steam wand, that's also very straightforward. There is a simple lever to control it, making it a breeze to learn how to use.
Grounds or Pods
As part of this Smeg espresso review, we had to point out that this machine gives you a choice. You can go with traditional ground coffee or use disposable paper espresso pods. With the pods, you can get an exceptional cup of espresso with far less mess. Plus, you can get a consistent experience, too, as you won't have to worry about getting the amount wrong between cups.
Fast Brewing
Making espresso with this Smeg coffee machine is incredibly fast with the thermoblock water heating system and the two dispensers. Usually, you can reach optimal brewing temperature in less than a minute, allowing you to brew two cups very quickly.
Plus, there is a 1.5-liter water tank. That way, you don't have to refill the water between every brewing cycle, allowing you to make more espresso in less time.
Retro Styling
If you're looking for a Smeg 50's retro-style espresso coffee machine review, there's a good chance that this Smeg ECF01 Espresso Coffee Machine is what you had in mind. It features graceful curves, chrome finishes, and a classic enamel style reminiscent of the era.
Plus, it's available in many colors that align with the 50's retro style. Along with classic black and bright red, you'll find 50's favorites like pastel pink, mint green, soft blue, and light cream.
Pros and Cons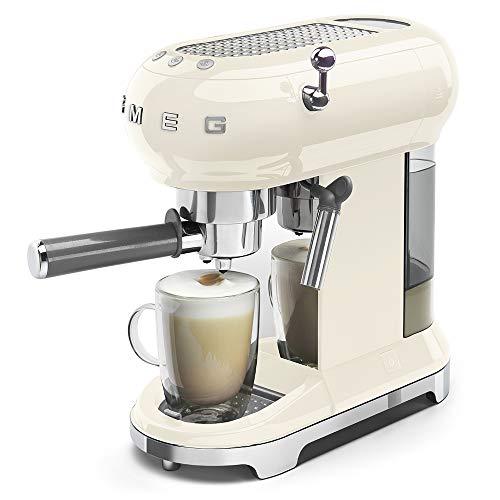 As the rest of the Smeg espresso maker review above shows, this machine has a lot going for it. It features simple controls, solid operation, and convenience, all in a captivating package.
Plus, you aren't limited to demitasse cups. Since the drip tray is removable, you can use a more traditional mug when brewing, adding to the convenience.
When it comes to drawbacks, cleaning the SMEG ECF01 espresso machine may be one of the bigger ones. While you do have an indicator light that lets you know when you need to descale the espresso machine, there are no automatic cleaning features. Everything has to be done by hand, which can be a little cumbersome at times.
Additionally, as with many Smeg appliances, this machine is more expensive than some of its similarly equipped counterparts. In many ways, you're paying a big extra purely for the unique styling. If you are a fan of the retro look, it may be acceptable. However, if you aren't overly committed to vintage designs, you may not find the upcharge worth it.
Finally, while the operation is simple, it can take a bit to get used to the button sequence for your preferred settings. While most users learn them in short order, if you don't use the Smeg ECF01 for a while, you may need to refer to the manual again to refresh your memory.
ECF01 Smeg Espresso Machine Review Verdict
Ultimately, this Smeg coffee maker is a solid choice for shoppers, particularly those that favor vintage styling. It's reasonably user-friendly, gives you a lot of control, and has features that make it a convenient machine to use on a daily basis.
However, cleaning it does take some effort. Additionally, personalized settings can lead to somewhat complicated button sequences that may be hard to remember if you stop using the machine for a while.
While this Smeg espresso coffee machine is a bit pricy, it is a standout if you're looking for a reliable appliance with that particular vintage look. You'll get both function and form, ensuring you can make delectable coffee drinks while maintaining your preferred aesthetic.
Smeg ECF01 Espresso Machine