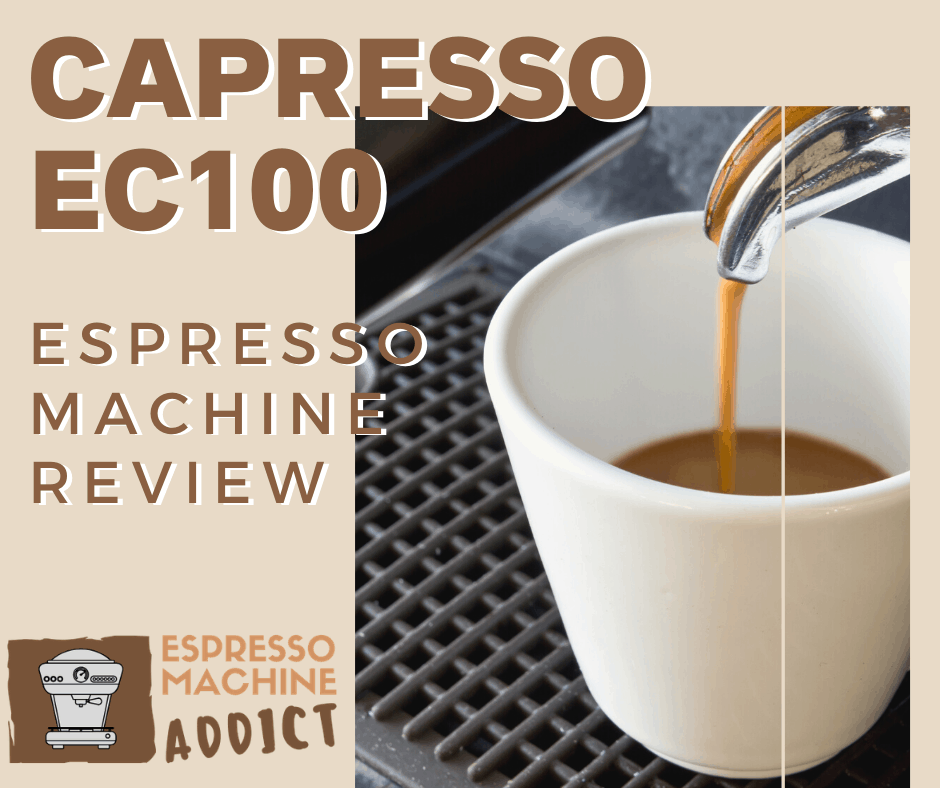 If you enjoy café-quality drinks at home, finding the right coffee maker is a must. Often, a Capresso espresso and cappuccino machine is an excellent choice. Capresso is a pump espresso and cappuccino machine brand with a long history, and it's known for its high-quality machines.
Figuring out whether the Capresso EC100 espresso machine is right for you doesn't have to be a challenge. By reading Capresso espresso machine reviews, you can get a solid idea of whether this option brings what you need to the table. Here's a quick Capresso EC100 review, allowing you to learn more about the Capresso espresso machine's features, pros and cons, and whether it's the best option for many shoppers' needs.
Capresso Espresso Machine EC100 Review
Capresso is undoubtedly a leader in the espresso and cappuccino machine niche. The company has an exceptional reputation for creating high-quality small kitchen appliances that many consumers rely on to start their days off right.
With the Capresso EC100 espresso machine, you get a great experience at a surprisingly affordable price. The design includes numerous key features discerning coffee drink lovers expect from coffee machines. Plus, it's user-friendly and looks great on any kitchen counter.
Usually, you can get started with this Capresso espresso machine in a matter of minutes. The directions are incredibly clear, so the learning curve is reasonable. You'll have a fantastic espresso drink in your hands in no time.
As an added bonus, this espresso and cappuccino machine isn't hard on the eyes. The bulk of the design involves lovely stainless steel, giving it a high-end look while ensuring it remains easy to clean. The remainder is a traditional small appliance black, ensuring it will blend with any kind of kitchen décor.
Features
Before you decide whether the Capresso EC100 is right for you, it's crucial to look at the machine and manufacturer's features. This lets you know exactly what this small appliance can do, making it easier to determine if it legitimately meets your needs.
As part of this Capresso espresso machine review, we took a hard look at what this coffee maker has to offer. Here are some of the standout features.
Warming Platform
The stainless steel warming platform ensures that your espresso stays toasty even if you can't grab it right away. You can heat the cups directly on the appliance, which is the utmost in convenience. Then, as you brew, there's less heat loss. Your espresso will remain at the ideal temperature for longer, making it an excellent feature for anyone who doesn't have time to hover over the machine.
Thermoblock Heating System
When it comes to making good espresso, this little powerhouse offers up a stainless steel-lined heating system. Plus, it has a full 15 bars of pressure, creating a high-pressure brewing experience that quickly delivers excellent results.
Large Water Tank
The Capresso EC100 has an impressive 46-ounce removable water tank. This little powerhouse can make a surprising number of espresso shots before the tank has to be refilled. It's incredibly convenient for busy coffee lovers who want to make their favorite café-quality drink before running out the door each morning.
Plus, you can refill the tank with ease. You can simply lift it up and bring it to your faucet or pour in water from a pitcher or bottle.
Unlimited Steam Capacity
When it comes time to froth or steam, you don't have to wait to get started. The Capresso EC100 espresso machine has unlimited steam capacity. That means you can get started immediately and keep going until your drink is just how you want it.
Simple Operation
The Capresso espresso machine is very user-friendly. It features a simple dial and push-button operation, all with handy indicator lights that let you know what the appliance is doing. This can be ideal for anyone who is just getting started with machine café drinks at home. The process is much less complex than some other espresso machines, allowing anyone to create exceptional beverages in no time flat.
Use Pods or Grounds
The EC100 Capresso espresso machine works with both espresso grounds and pods. This makes it a convenient, flexible option that can adjust based on your preferences.
Pros and Cons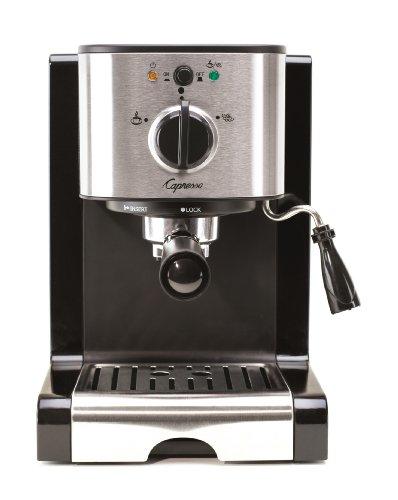 The Capresso EC100 brings a lot to the table. But one of the most significant benefits is actually the price. You get a solid feature set without having to break the bank, which could be perfect for budget-conscious shoppers who want to make café drinks at home.
Plus, this Capresso espresso and cappuccino maker isn't just easy to use; it's also easy to clean. Many of the main parts are removable, allowing you to give them a thorough cleaning whenever the need arises. The stainless steel portions of the body also wipe down quickly, further simplifying cleanup.
For some, the biggest drawback is that the Capresso EC100 is a manual machine. If you want to steam or froth, you have to use the frothing wand and do the work yourself. However, this is part of what keeps the cost for this appliance so reasonable. And, once you've tried your hand at it a few times, you can usually refine your speed and your technique, ensuring you get great results.
It's also important to note that this machine model isn't necessarily designed to pump espresso into a traditional coffee mug. Instead, it would be best if you had demitasse cups (espresso cups) or something of a similar size to optimize the experience, which may mean an additional small investment.
EC100 Capresso Espresso Machine Review Verdict
Ultimately, the Capresso EC100 espresso machine is a great option for shoppers on a budget or anyone looking for an entry-level appliance. It's user-friendly, simple to clean, and more affordable than many other options. Plus, you can use pods or grounds, which is a nice bonus.
However, you probably need demitasse cups to use this machine the way it's meant to work. Traditional coffee mugs don't really fit, and that may be problematic for some shoppers. Similarly, not everyone wants to deal with manual steaming or frothing.
Still, the Capresso EC100 is a powerhouse, especially for the price. If you're looking for a way to get café-quality coffee drinks at home, this espresso machine can do it, all without breaking the bank.
Capresso Espresso Machine EC100